"Her mathematical passion is only equalled by her knowledge and her clever demonstrations" - Cheltenham Science Festival 2015 brochure
"Obviously a gifted presenter. Wonderful explanation and inspired both of the children (12 and 14) to investigate mathematics further!" - audience feedback, Cambridge Science Festival
"Dr Katie Steckles is not just an amazing mathematician but has proved to be a great speaker who holds the audience extremely focused." - audience feedback, Cambridge Science Festival
"Mind Blown." - Year 10 student, Bristol
"Like Ghostbusters, but for maths" - BBC Radio Manchester production assistant
"I really like the maths lady, I want to be a mathematician" - Year 7 student, London
Katie Steckles is a mathematician based in Manchester, who gives talks and workshops on different areas of maths. She finished her PhD in 2011, and since then has talked about maths in schools, at science festivals, on BBC radio, at music festivals, as part of theatre shows and on the internet. She enjoys doing puzzles, solving the Rubik's cube and baking things shaped like maths.
In 2016, Katie was awarded the Joshua Phillips Award for Innovation in Science Engagement, which means Katie was the official Science Communicator in Residence for the 2016 Manchester Science Festival, and ran the Manchester MegaPixel project as part of the festival. Press release (PDF)
If you need more information, a photo of Katie for publicity, or to enquire about a booking, please use the contact details above.
More about Katie's work:
Katie works for Think Maths with Matt Parker, giving talks in schools around the country about engaging off-curriculum mathematics. She also does admin and project management for Think Maths, and ran the Domino Computer project at Manchester Science Festival in 2012 as well as the MegaMenger international fractal construction project in 2014.
Katie is also a Mathematics Masterclass speaker for the Royal Institution - giving workshops on Saturday mornings for groups of gifted and talented students, on mathematical topics. She has delivered a number of masterclass sessions, ranging from primary age up to Sixth Form, on topics including topology, maths busking, open conjectures in maths, and mathematical origami. She has also delivered lectures in the Ri's Faraday Lecture theatre, and run sessions as part of their summer programme.
Katie has appeared several times on BBC radio, including talking to the BBC World Service about topical maths news, guest spots for BBC Radio Manchester talking about maths puzzles, and as part of a Naked Scientists programme about the Millenium Maths Problems for BBC Radio 5 Live Science, in July 2015. She has also appeared as a guest expert in two episodes of Channel 4's SuperShoppers, and on a BBC Live Lesson in January 2018.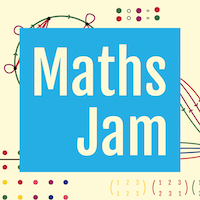 Katie is the organiser of the Manchester branch of MathsJam, a monthly pub night for people who want to share maths toys and games, puzzles and other interesting mathsy things. Katie coordinates all the organisers of over 60 MathsJams worldwide, and helps to maintain the MathsJam website. She also assists with running the MathsJam Annual Gathering.
Katie blogs as part of the team at The Aperiodical, an online maths magazine. One of the site's three editors, Katie posts news and opinion pieces, as well as curating content and helping to run the Carnival of Mathematics.
Katie has appeared in several videos on the YouTube channel Numberphile, talking about her favourite bits of maths. She's also done a few videos of her own, including one on gift wrapping which has had almost half a million views.
In 2014, Katie worked with Dr Peter Rowlett and the Further Maths Support Programme to produce a series of podcasts, called Taking Maths Further. Each episode features an interview with someone who uses maths in their work, plus some discussion on the mathematics, and a puzzle. The podcasts are available to listen to on the FMSP website.
Katie spent two weeks in May 2015 as 'Mathematician in Residence' in the Stephen Lawrence Gallery, at the University of Greenwich. She produced a mathematical interactive gallery exhibit, which included mathematical art, and interesting visual mathematics, which was open to the public and staff and students.
Katie volunteers with Manchester Girl Geeks, the Manchester branch of the world famous Girl Geek Dinners. In addition to dinners, Manchester also operate Girl Geek Tea Parties, which are interactive hands-on workshops for Girl Geeks of all ages, and Katie has prepared and delivered several such workshops, as well as organising speakers to deliver others.
Katie has been a member of the team at Maths Busking, a group who perform entertaining street shows and cabaret performances with a mathematical theme. She has performed at science festivals, conferences, events and in public and often leads performances, as well as helping to write material for the shows and training new buskers.
Katie has worked with and as part of mathematical theatre projects, including the19thstep's production of Everything & Nothing (later called Amelia and the Mapmaker), a performance project about the Poincaré Conjecture. Katie consulted on Geddes Loom's Phi-based show Prelude to a Number.
Katie also does various other fun outreach things, including saying hilarious things at Bright Club Manchester, a stand-up comedy night for researchers, and at Science Showoff in London. She's also done a few guest spots at shows for Festival of the Spoken Nerd and An Evening of Unnecessary Detail, and speaks at Skeptics in the Pub events around the UK.
Katie has written questions and puzzles for various mathematical competitions and events, including programme puzzles for events at the British Library, and questions for the UK edition of Who Wants To Be A Mathematician?. Katie also produced Puzzlebomb, a monthly sheet of ingenious new puzzles invented by herself and people on Twitter.
Education:
Pure Mathematics MMath (undergraduate Masters), UMIST
PhD Mathematics, University of Manchester (completed 2011)